Love is back to Netflix with season two and of course I watched the entire thing in one day. I absolutely loved it but what I loved even more was Mickey's clothes. If you haven't seen Love and have no idea what i'm talking about it's a Judd Apatow creation starring Gillian Jacob as Mickey and Paul Rust as Gus. The show gives us a gritty and realistic portrayl of contemporary relationships in a hilarious and awkward setting. Mickey is a drinker, a smoker and a relationship addict. Her messy and lacklustre lifestyle is reflected in her outfit choices but it works so f**king well. Here are just a few that I absolutely adore.
Big Jackets
This Varcity jacket appears in both series one and two. I adore this jacket for so many reasons. It's vintage, it's oversized and it's satin texture makes it so on trend. I wish I had my own but I probably wouldn't look as good as Mickey does!
This INCREDIBLE oversized New York jacket Mickey owns is even better than the previous one. It is so eye-catching that I could hardly take my eyes off it all episode or focus on the story-line. Clearly Mickey is bringing varsity back and I'm all for it. I have got to somehow get my hands on this!
2. Dungarees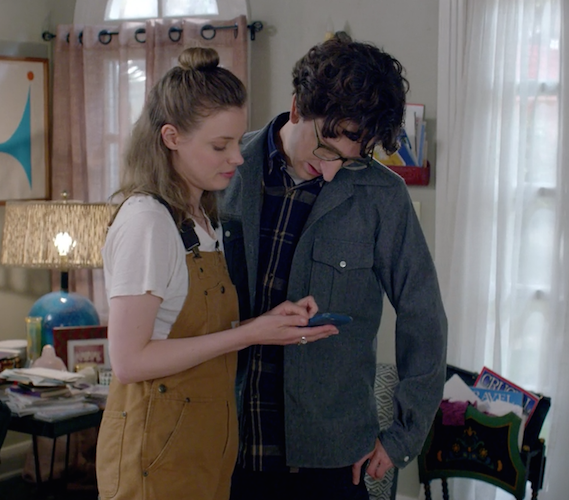 These dungarees first appear on the screen in season 1 and it was love at first sight! Mickey can somehow make an outfit that resembles something a painter might wear look amazing AF. This risky choice dared me to root through my wardrobe, pull out my old dungarees and wear them with pride.
3. Slip Dresses
Throwback to season 1. This stunning sequin dress Mickey wears to the disaster of date she goes on with Gus looks so good on her. Mickey's porcelain complexion is accentuated in this dress and makes me proud to be as pale as a ghost just like Mickey. Let's put away those tanning mitts and embrace our natural skin!
4. Wooly Jumpers
This fluffy grey jumper Mickey wears in the final scene of season 1 and first episode of season 2 is thrown together with a cute black leather skirt and black boots. An outfit I wouldn't normally wear. Usually I associate leather skirts with going out and dressing up but the way Mickey pairs it with this jumper gives the outfit a casual feel. Almost every girl owns a jumper like this or one very similar so go ahead and match it with whatever you want to dress it up or dress it down.
Written by: Lisa Sexton